Diversity and inclusion appeal on both a personal and an artistic level to Shahbaz.
Her paintings, sculptures, videos and installations revolve around cultural and gender identity, and women living in patriarchal societies, she said. Welding has become especially cathartic for the artist, who also has a master's degree in illustration and a bachelor's degree in biomedical engineering, both from Iran.
Her final show project will include a massive, 8-foot-tall metal female sculpture called The Monumental Fertility covered with a dozen breasts made out of knobby tea pot lids from Iran. Metal feathers chiseled by an Afghan undocumented teen immigrant Shahbaz knows in Tehran will jut out of the sculpture's enormous, gaping resin womb. Most of her weighty, powerful sculptures have several layers: metal, resin, foam, fiber, clay and paint.
"I really want to work with metal, with heavy material, which is harsh, which is dangerous, and work with fire, because I'm angry right now," she said. "Even though I feel more alone, I also have energy."
A similar drive fuels Momeninejad, who started his Transportation Design studies in Spring 2014, and has an undergraduate degree in mechanical engineering from Tehran.
Getting to the College took about five years, he said. He had to first learn English, and then work on his portfolio. Since Iran doesn't have a U.S. embassy, he went to an embassy in Dubai in the United Arab Emirates to apply for his initial student visa. His current multi-entrance student visa expires in April.
"When I first started ArtCenter, it was hard," said Momeninejad, soft spoken, sitting at an outside Café table on the Hillside Campus. "I didn't have any friends. I don't have any family here. I was alone, all by myself."
Now Momeninejad not only has friends from various backgrounds, but also a California driver's license, a place to live in Pasadena and an affinity for downtown L.A. and different kinds of food.
"People in California are so diverse, and embrace immigrants," he said. "After the executive order was announced, all of my friends were texting me, and worried about me. One friend, a classmate, texted me and said, 'Dude, you're always welcome to my house.'"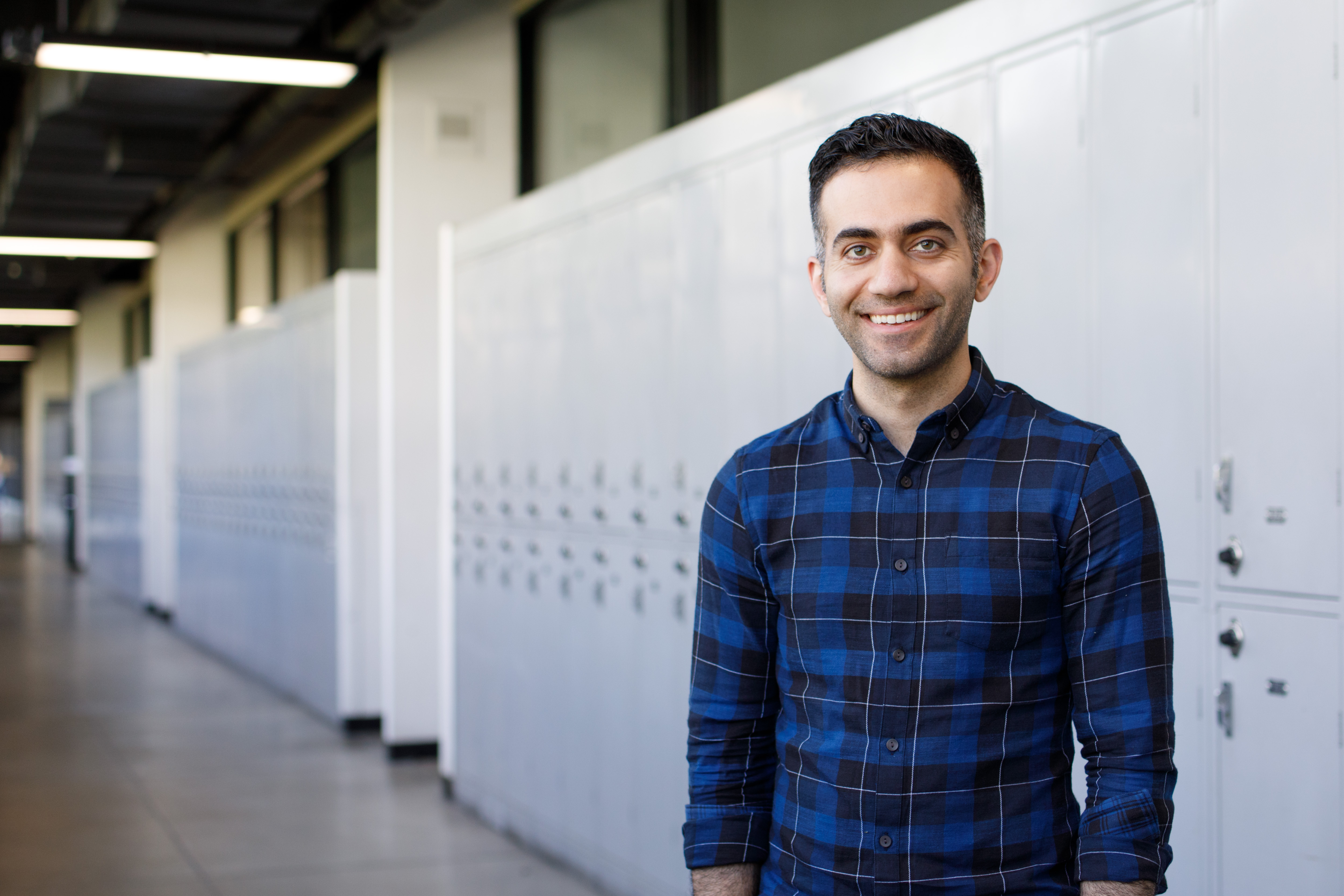 A passionate car fan since he was 10—he would read car magazines in Tehran, and visit show rooms, coveting Ferraris and Lamborghinis—Momeninejad fell in love with concept cars, and had his eye on exterior design. For a Fall 2016 sponsored project with GM, he designed a cargo vehicle showcasing storage compartments such as a side panel that can convert into a billboard.
At a time when many Transportation Design students are applying for internships in countries such as Germany, Japan and China, Momeninejad feels that overseas internship opportunities to him are lost since he wouldn't be allowed to return, if a ban is in place.
He had also thought that after graduation, he would have the option of getting a student work visa, to work in the U.S. for a year and a half, and then the possibility of a company-sponsored H-1B work visa.
"Even if a company wants to sponsor you, they can't, with this executive order," he said. "All this makes my future, the dream I've had all my life, fuzzy right now. Just because I'm from Iran shouldn't impact my life like this. What makes America great is all the immigrants who come here with a dream, and work as hard as they can to make that dream come true."