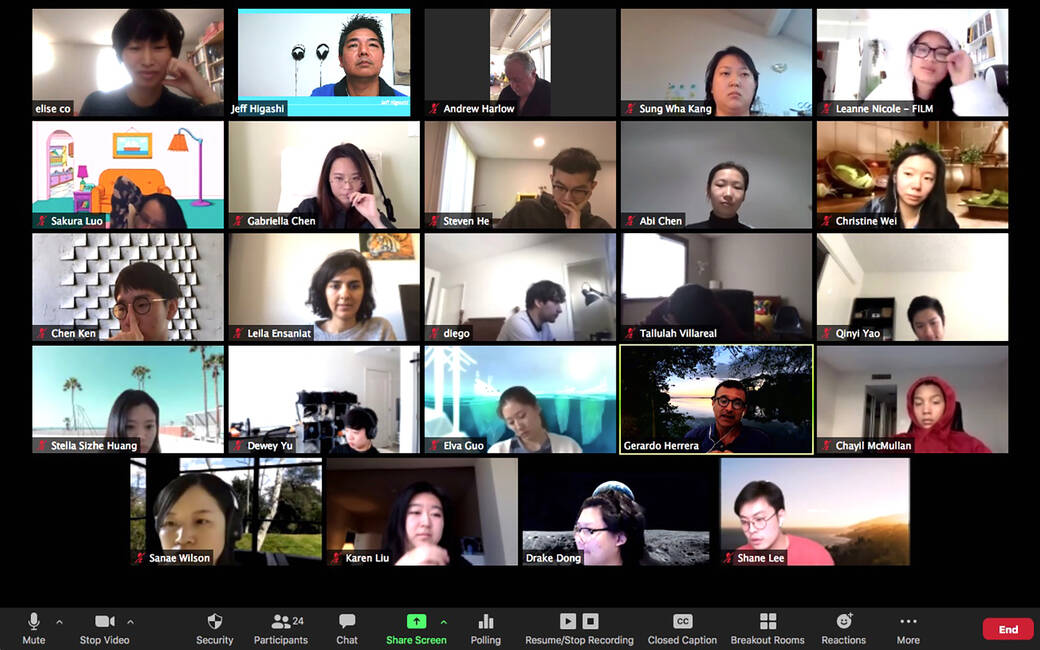 They've defined pain points looking at samples from the Asus ProArt product line, which includes professional laptops, desktops and displays, and they've developed new ProArt products and services to help creative workflow and collaboration. Many TDS courses—which combine upper term students from multiple departments—are Sponsored Projects, in which students develop ideas and strategies for corporate sponsors. This course includes students in undergraduate Product Design, Interaction Design and Film, and graduate Media Design Practices, Industrial Design and Transportation Systems and Design.
"Collaborating remotely opens up new channels of communication, new ways to showcase ideas, and makes each review much more exciting," says Jen Chuang (MS 02 Environmental Design), who leads Asus' Strategic Partnerships. "Asus and ArtCenter have initiated a dialog between generations of creators to discover new possibilities for the future of creativity. It's been awe-inspiring."

For the course's midterm, students living everywhere from Beijing and Portland, Oregon to Los Angeles log onto Microsoft Teams to join Product Design Associate Professor Jeff Higashi (BS 95 Product Design), Interaction Design Associate Professor Elise Co, Graphic Design Professor Gerardo Herrera (BFA 91 Graphic Design) and Film Professor Andrew Harlow, who are co-teaching the course. Product Design Chair Chris Hacker is there, along with a number of Asus designers tuning in from Taiwan and Singapore to provide feedback on student presentations. Faces pop up in rows of boxes, with a chat section on the righthand side of the screen.
"Leave a note in the chat," Co says to the group. "That's been an advantage in this format versus an in-person format." Chuang adds, "On behalf of Asus, we're very excited. This is very different than the daily work we do. We can't wait."
What follows is a series of colorful online slideshow presentations created by five teams of students, all exploring creative solutions and new products for the ProArt line, including toolbars, keyboards and other products for gamers to filmmakers, animators to designers. Team Vision incorporates TikTok videos into their presentation, which puts a design focus on prioritizing health. After, Asus designers fill the chat part of the screen with their comments. "It's very thoughtful of you to include a lot of user observations," writes alumna and Asus graphic designer Jenny Chu (BFA 08 Graphic Design).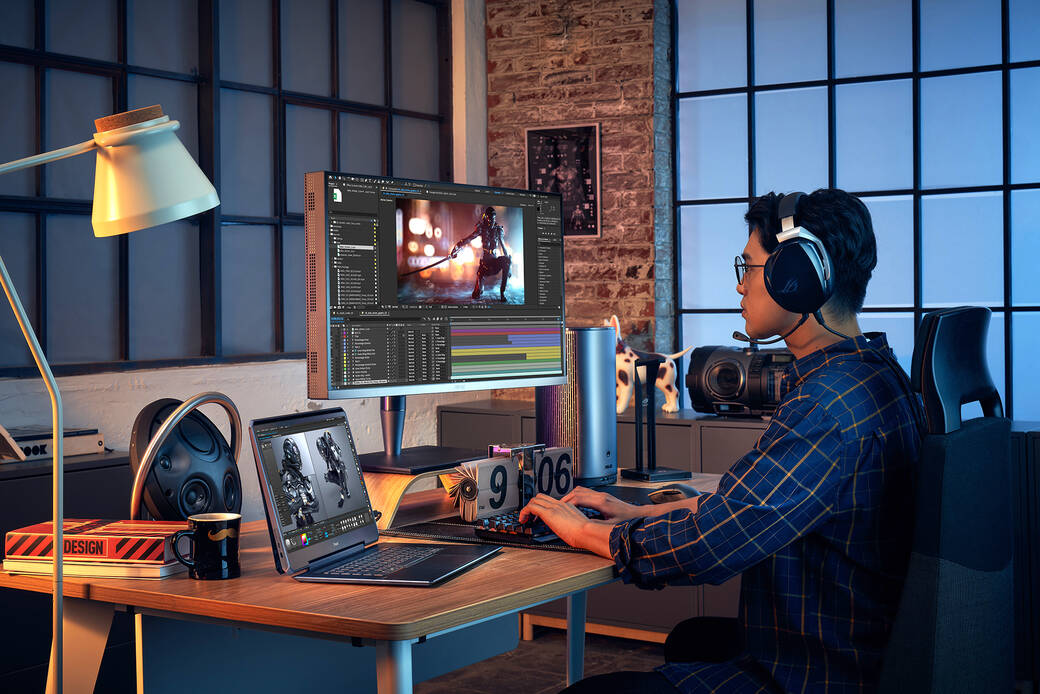 Film student Chayil McMullan, on Team Vision, reflects later on learning remotely. "Learning away from campus has been nothing short of convenient during these truly troublesome times," says McMullan, based in Pasadena. "Although this isn't an ideal working environment, it's making me appreciate ArtCenter's on-campus experience. We're also discovering new ways to be more effective with our productivity in collaborative work. We're all meeting each other in the middle to create quality finished work that we can be proud to present."
For Higashi, the course is a perfect opportunity for ArtCenter students to design products that they would use themselves, with in-depth guidance from four faculty members. "With a host of new online tools to create working groups, collaborate on whiteboards and share screens, we're able to get a lot done in class," he says, jokingly adding, "The only thing we're missing is our cafeteria food!"